If you are out looking for the best Bluray ripper for Mac, then today we are here to help you out. Today we bring you the review of the DVDFab Bluray ripper for Mac, which is indeed considered the best Blue-ray ripper software available for Mac currently.
The DVDFab Blue-ray ripper (3D Plus) has some great capabilities to rip any sort of 3D blu-ray file to either 3D or 2D videos in formats of your choice, other than just ripping 2D Blue-rays into videos of 2D format. The DVDFab Blu-ray ripper is an efficient, time and miney saving software solution that is a perfect answer for all your queries and requirements relating to ripping of Blu-ray content. Which means, using the DVDFab Blu-ray ripper, you can enjoy your Blu-ray content conveniently without much hassles, no matter on a 3D or 2D screen. Apart from being convenient and easy to use, this software is also blazing fast in its operations and the output is of high quality as well. And the software also gets regular updates to stay up to date with the new Blu-ray devices and other releases.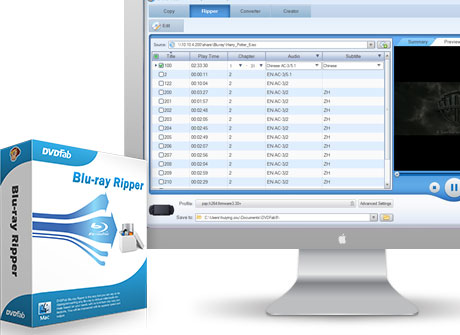 The main advantage of using the DVDFab Blu-ray ripper (3D Plus) software is that it has the unique ability to rip out any 2D Blu-ray content to a variety of different 2D formats and also allows users to rip 3D Blu-ray content to either 3D and 2D with various format support, so as to support the content on various devices. When used with the DVDFab 2D to 3D converter software, the DVDFab Blu-ray ripper (3D Plus) can actually covert standard 2D Blu-ray to 3D content. Moreover, it is also capable to rip Blu-ray content to audio files in various formats as well.
Another advantage of using the DVDFab Bluray ripper for Mac is that as it features the latest and most modern acceleration techniques, the processing speeds provided by this software is quite high. And you also get great looking audiovisual effects, thanks to the latest and the most advanced encoding and decoding techniques used by this software.
What makes this Blu-ray ripper for Mac different from others is that it allows the users to customize the resulting output up to a large extend which includes the ability to alter audio and video parameters, 3D formatting and effects and also the ability to use custom video effects as well. As mentioned earlier, this Blu-ray ripper (3D Plus) for Mac also brings out timely updates for the software to be capable of handling all the latest Blu-ray technologies, and the updates are free for users with a purchased valid license of the software.
The output formats supported by the DVDFab Blu-ray Ripper (3D Plus) for Mac are given below:
Audio: DTS, MP3, AC3, M4A, AAC, WMA, WAV, etc.
Video (2D): TS, MPEG-4, M2TS, H.264, AVI, MP4, MKV, FLV, etc.
Video (3D): TS, AVI, M2TS, MP4, MKV.
And below are the minimum system requirements to run the DVDFab Blu-ray ripper (3D Plus) for Mac:
Mac OS X v10.6.
1 GHz Intel processor.
512 MB of RAM.
Free 100 GB hard disk space.
Blu-ray drive.
Active internet connection.